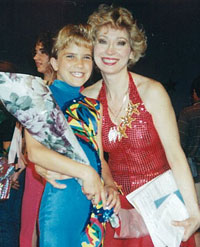 Mary Ann & Co. Dance and Music School has been in business 26 years ---
Founded and owned by long-time, once professional dancer/singer Mary Ann Wolfe-Barrington, our philosophy is to have fun while learning in a positive environment where dancers can be themselves and be creative and experience the art of singing, dancing or acting. We teach students to take the disciplines of performing and apply it to their everyday lives to help them build self-confidence and self-esteem.
Dance has changed so much in the last 25 years and we work hard to keep up with the times by introducing new material and routines that are fresh and up-to-date.
We perform two shows a year, December and June, and we are always available and happy to perform for nursing homes or parties. So please, come join us for some fun because we have classes for all ages and all levels of ability!

Meet Our Wonderful Teachers
MARY ANN WOLFE-BARRINGTON
Mary Ann is the owner-director of Mary Ann & Company Dance and Music Studio. A former professional singer and dancer for over 25 years, Mary Ann also choreographed the Pittsburgh Steelerettes and Don (Chef) Brockett Productions. She has performed in the U.S. and overseas doing industrials, commercials and shows, as well as Civic Light Opera, Pittsburgh Playhouse, Odd-Chair Playhouse, Ben Gross Dinner Theater, and "Cater-Cousins" Children's Television. She also toured off-Broadway in and around the Boston Area. Mary Ann studied as a child with Nita Shaw, then as a teen joined jazz with the Mario Melodia Performing Arts Center and ballet and tap at Point Park College with Charlotte Mady and Carol Knight.
EMILY HUEY
Emily began dancing at the age of two with the Mary Ann & Co. Dance and Music Studio. Her list of studies while there include ballet, tap, jazz, acrobatics, and hip-hop. She also has several years of twirling experience, taking lessons from Bernadette Nemeth. She has also performed with the Steel Valley Visual Ensemble, and is now one of their instructors. Emily also studied dance at Slippery Rock University and has choreographed numerous modern pieces for their concerts. She graduated from Slippery Rock in December 2008 with a BA in dance.
SAMANTHA MITCHELL
Samantha has called Mary Ann & Co. her home since she was four. Here is where her love of dance began. She also studied theater and dance at Point Park College, USF, Labco and CCAC, where she appeared in numerous productions and graduated in 2001. She was a back-up dancer for Radio Disney and Razzor records in Tampa, Florida, and was the choreographer for The McKeesport Little Theatre Juniors.
MARCY SCHMIDT
Marcy has been teaching for Mary Ann & Co. Dance Studio for 20 years, before hip hop was put on the curriculum. She assisted while her two daughters, Tiffany and Erica, attended classes and then found her niche in hip hop. Her classes are great fun and the popularity of hip hop keeps on growing.